Today while fighting off a cold I thought it would be great to see if I could get Opcode's Galaxy running on my Macintosh SE to use its Editor/Librarian with my Roland XP-50.
First, I tried running the OMS 2.3.8 installer while booted to System 6.0.8.
Nope.  I'll have to boot to my System 7.1 disk and try it there.
Oops.  Of course, the Macintosh SE has a 68000 processor, and OMS 2.3.8 requires a 68020.  Oh well.  But... what's this... a copy of Opcode's legendary Vision MIDI sequencer, version 1.0.2?  Maybe it will work... let's reboot to System 6.0.8 again.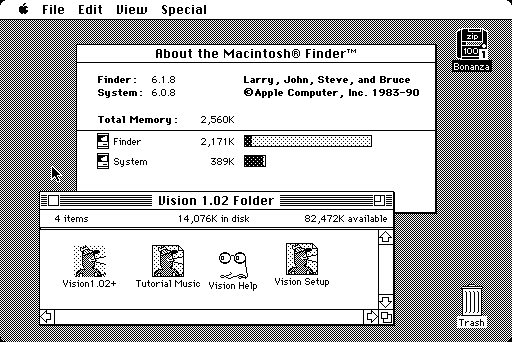 Double-click...
...and it launches.  Blank song.  This show's off Vision's keyboard (i.e. computer keyboard) sequence-triggering capability, which was also present in Dr. T's KCS (Keyboard-Controlled Sequencer) but wasn't present as a first-class feature in a mainstream sequencer again until Ableton's Live.  (I don't count Logic's Touch Tracks or Bars'n'Pipes Pro here, nor Max, as using keyboard-triggered sequences requires construction in each.)
Let's open a demo song...
We've got a sequence editor, note editor, drum editor... oh, the vision we have into our musical data... let's check the about window for more info regarding this amazing program.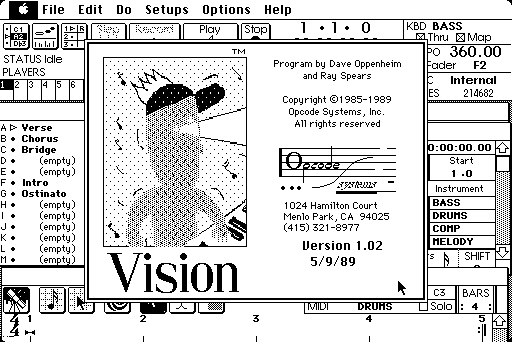 Lovely.  1989.  That's, uhh, almost 30 years ago.
I probably won't use Vision 1.02 with my Roland XP-50, since the XP-50 has a pretty cool built-in sequencer with RPS and phrase tracks.  But it's fun to think about...